In environments where every individual's position cannot always be accounted for and numerous paths are crossed to maintain productivity, hi-vis clothing plays a vital part in ensuring worker safety.
Hi-vis clothing is created to provide increased visibility and safety according to the risk factors of specific low visibility environments. To ensure that safety garments provide the highest level of visibility, ANSI 107-2020 certification helps you identify the garments that provide optimal safety.
Hi-vis Standards Explained: ANSI 107-2020
As a vital safety element when working in low visibility and high-risk environments, hi-vis garments need to be of the highest standard.
ANSI 107-2020 is the American National Standard for hi-vis PPE garments. The standard assists HSE managers in finding the garments and fabrics that will help provide the safety and quality their workforce needs.
The requirements of ANSI 107-2020 include:
Design - The ergonomics and configuration of the garment are tested to ensure that construction requirements are met without affecting wearability.
Color - To ensure that reflective visibility is maintained the colorfastness and dimensional change of background material are tested, as well as the garment's performance under wet conditions.
Optional Features and Testing - Flame resistance is part of the optional testing criteria, which also analyzes how labels and branding affect hi-vis properties.
The standard also provides guidelines for garment care labeling to help wearers and companies retain garment effectiveness for as long as possible.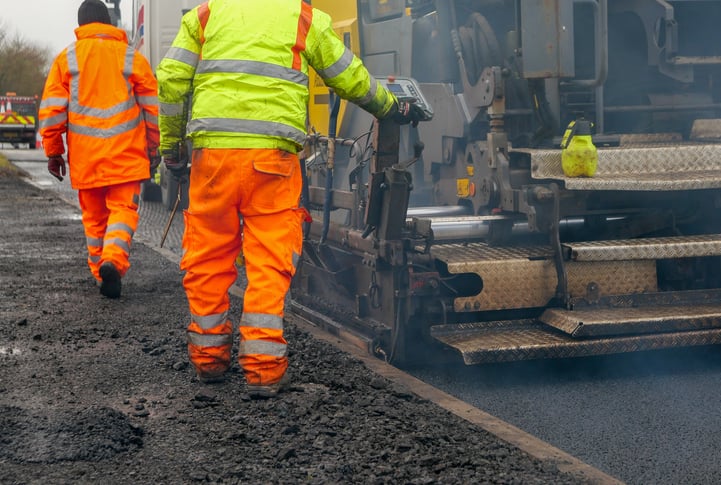 How are high-visibility fabrics created?
Hi-vis fabrics are made from fluorescent materials that react to ultraviolet light, creating the glowing effect we observe. The fluorescent reaction is especially visible in low-light areas where visibility is limited. For added visibility, reflective tape that is highly reactive to any light source is added.
Do hi-vis garments lose their reflective properties over time?
Even though the fabrics themselves are treated chemically to provide the final fluorescent properties, the reflective possibilities can fade over time. Replacing worn-out and faded hi-vis garments is needed to ensure that visibility isn't affected over time. Once the reflective surface is affected, the safety provision diminishes drastically.
Following the proper care guidelines will also help you retain maximum reflectivity for as long as possible.
The importance of high-visibility PPE wear
Moving vehicles and machinery are a staple in many working environments, but once low visibility comes into play, the increased potential of safety hazards can lead to serious injuries.
High visibility gear helps to mitigate that risk and illuminates workers to prevent accidental injury from lack of visibility.
Industries that require high-visibility clothing
Even though the origin of fluorescent fabrics can be traced back as far as 1930, it wasn't until the 1990s that hi-vis clothing became required workwear in many industries.
Today, hi-vis garments are an essential part of millions of workers' safety precautions around the globe.
Many industries today also require additional FR properties in their hi-vis garments, including the following:
Electric and utility companies
Engineering
ER
Airport ground crew
Railway workers
Transportation
In these industries, the protection garments provide needs to be double-fold to protect against the risks they face daily. ANSI 107-2020 certification can help you find garments that have passed both visibility and fire resistance tests.
Choosing the right hi-vis and FR fabrics for your environment
The visibility of your workforce has to be a vital guiding factor in the creation of PPE programs where low visibility can increase the risks and hazards your workforce face.
TenCate Protective Fabric's consultants can help you choose the most durable, visible, and protective fabrics to shield against the risks of your unique environment.